WisPolitics.com Profile: Riemann uses PR skills, 'lunch-pail work ethic' to boost state interests in D.C.
3/21/2013
WASHINGTON, D.C. -- Saving whooping cranes, "connecting the capitals" and fixing a dilapidated bridge spanning two states is all in a day's work for Sheboygan native Wendy Riemann. Well, not quite a day, but in nearly two years on the job, the 33-year- old has already racked up these accomplishments as Wisconsin's director of federal relations.
"I've got the best job in D.C.," the effusive 2002 University of Wisconsin-Madison graduate declares from her modest but comfortable office in the Hall of States near the U.S. Capitol.
As GOP Gov. Scott Walker's representative in Washington, Riemann advocates for his policies and the state's priorities. She's also responsible for informing Wisconsin's 10-person congressional delegation about what's happening in Madison and vice versa.
"Wendy is a valuable member of the governor's team," said Eric Schutt, Walker's chief of staff. "Her extensive experience on the Hill and in D.C. coupled with her Wisconsin roots makes her a great fit for her current position. Her updates and input on federal issues have not only been helpful for the governor's team, but also for many of our state agencies."
Riemann describes herself as a "middleman." To that end, last summer she invited all the delegation's chiefs of staff and legislative directors to Madison to "connect the capitals." Throughout the day, each of the state's cabinet secretaries came to the governor's conference room to give presentations about their departments. It was a "get to know you and the state" event, Riemann explained.
"I educate, advocate and unite in this job," she said.
Her meet and greets aren't limited to Madison. While serving as communications director for Rep. Jim Sensenbrenner, R-Menomonee Falls, before the Walker administration job, Riemann noticed that a lot of the delegation's staffers didn't know each other or meet regularly. Since starting in the state job June of 2011, she has gathered all the legislative directors for lunch, all chiefs of staff for lunch, hosted an all-staff happy hour and begun reserving a room in the Capitol each time a Wisconsin official visits for state briefings.
The informal events are widely attended by staffers from both parties, Riemann said.
Uniting people is only part of the job. The state and its constituents need an advocate in Washington. For example, when Operation Migration approached the state for help with the FAA, it became Riemann's job to find the right ears to bend and the right hands into which to deliver official letters.
The nonprofit tries to save endangered whooping cranes by teaching them a new migration path between central Wisconsin and Florida. The aviators use a special light aircraft the fledglings follow to learn the route. However, Operation Migration needed an FAA waiver.
Riemann got to work and armed with letters from the governor, the FAA granted the group both a short-term and longer-term waiver.
What she's most proud of so far is her involvement in helping Wisconsin secure a decades-old priority: a new bridge over the St. Croix connecting the two states at Stillwater, Minn.
The states had the funding to replace the 80-year-old lift bridge but needed Congress to provide a waiver to the Wild and Scenic Rivers Act. Riemann helped line up support from all members of both states delegations and encouraged members to circulate "Dear Colleague" letters explaining the project's importance and budget-neutrality to the rest of Congress.
Walker worked with Democratic Gov. Mark Dayton and Riemann helped the unlikely pairing get an op-ed published in a Capitol Hill paper. They also roped in Transportation Secretary Ray LaHood for support and finally on March 14, 2012 the St. Croix River Crossing Project became law.
"Wendy is a real professional," said JoAnne Anton, the state director to former Democratic U.S. Sen. Herb Kohl. "She's extremely pro-active, which is the best thing that anyone could expect of a person in that job. She's very pro-active at getting everyone together, bringing all the right stakeholders together and anyone who has a voice at the federal level.
"That does not happen easily or on its own," Anton added.
"Wendy was a talented asset in my office and we were sad to see her go," Sensenbrenner said. "But Wendy remains a part of our family. She's in the large network of my former staffers that stay connected."
Riemann got her start in Washington after meeting the right fellow Badger on the softball field while working as a White House intern for President George W. Bush.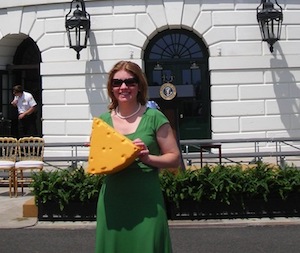 Riemann showing off her Packer pride when NFL team members visited the White House on August 12, 2011 in honor of their Super Bowl XLV victory.
"I saw Wisconsin in her in so many ways," said Kevin Keane, who hired Riemann into then-Health and Human Services Secretary Tommy Thompson's public affairs shop after she graduated. "She has that Wisconsin lunch-pail work ethic.
"And she has the Wisconsin passion in her. She loved everything Wisconsin, talked everything Wisconsin.
"Wendy just seemed out of central casting in many ways," added Keane, who now works for the American Beverage Association.
Keane also said she has "that great Wisconsin smile," which, along with her record of civic participation and academic achievement, is likely what earned her a spot in the Cherry Blossom Princess Education and Cultural Exchange Program as Wisconsin's princess in 2004.
One might think that experience and her "central casting" traits are what won her an Emmy. No, for that credit some humorous spots on hand washing.
After serving as speechwriter for then-Gov. Jeb Bush, R-Fla., and earning a master's in health communication from Johns Hopkins, she headed up the Florida Department of Health's communications department. There, she oversaw a public service campaign to stress the importance of hand washing and proper sneezing technique. The humorous "Fifth Guy" spots won an Emmy Award in the public service announcement category.
She acknowledges that having an Emmy is pretty cool but she's more proud of her rescue beagle, Bailey.
When working for Sensenbrenner it was Bailey, not the Emmy, that accompanied her to work.
"Wendy's beagle was a frequent, well-behaved visitor to my Capitol Hill office where he sometimes played with my three dogs, and was easily bribed with treats," Sensenbrenner said. "The Sensenbrenner pack is a little less exciting without Bailey and Wendy!"
Tom Schreibel, the Sensenbrenner chief of staff who hired Riemann, explained further: "The congressman loves dogs and she'd bring Bailey into the office -- the dog wouldn't leave her side until the congressman would leave Cheetos around, he'd sniff those things out in a heartbeat."
After accomplishing so much in a relatively young career, and after working on both a presidential and a congressional campaign, naturally her mentors think she should seek office herself someday.
"Absolutely!'' Keane said.
But for now Riemann demurs like an expert politician: "I'm not thinking about it," she says. "I love my job!"
-- By Nicole Duran
For WisPolitics.com
---
For other coverage of DC and other recent profiles of Herb Kohl, Reince Priebus and John Stocks, see WisPolitics.com's DC Wrap: http://dc.wispolitics.com/
Copyright ©2020 WisPolitics.com All rights reserved. |
WisOpinion.com
|
WisBusiness.com
| Website development by
wisnet.com LLC
| Website design by
Makin' Hey Communications